Bottom of the 9th
(Competitive, dice-placement, single player, online multiplayer)
iOS requirements:
iOS 10 or later

iPhone 5 or better, iPod touch (6th gen) or better

Compatible with iPad (4th gen or better, Mini 2 or better), but designed for phone
Android requirements:
Android 4.4 or later

Requires NEON CPU support

1 GB minimum device RAM recommended
Bottom of the 9th is a baseball-themed tabletop game that combines cards & strategy with dice & action.
Bottom of the 9th puts you right into the most exciting moment in all of baseball. The visiting league leaders haven't lost a game all year, and they were the heavy favorites going into today's game. But the home team have given them a run for their money and managed to keep the game all tied up right until the end. It's the Bottom of the 9th, and a single run will propel the underdogs to a legendary victory. But the fight has cost them. They got nothin' left! If the game goes to extra innings, the visitors have the experience and stamina to take the game for sure. What will you do?
Do you take control of the batting team, and lead the scrappy underdogs into history?
Or are you more of a "league leader" type, defending your perfect record?
Either way, pop open your personal telephonic contraption and play, because there's nothing that's quite like the thrill you feel in the Bottom of the 9th!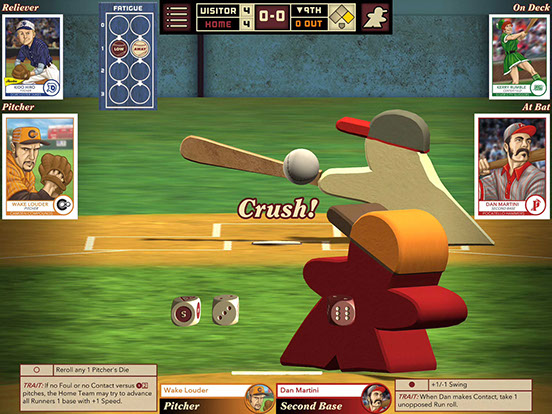 Streaming:
Want to stream Bottom of the 9th on Twitch, YouTube, or elsewhere? Great! We have no restrictions on streaming or monetization.
Drop us a line on Twitter, Facebook, Twitch, or YouTube when you're planning to go live and we'll do our best to help spread the word.
Planning to play One Deck Dungeon regularly? Get in touch and we may even rehost you from the official Handelabra channels!